Cet outil permet d'afficher rapidement les informations métadonnées des fichiers sous formes de notification (la fenêtre jaune apparaissant lors du survol d'un fichier) dans l'Explorateur Windows, les fenêtres de dialogue Ouvrir, Sauvegarder Sous et toutes les fenêtres utilisant les menus interactifs contextuels de Windows lorsque les contenus de ces fenêtres sont parcourus.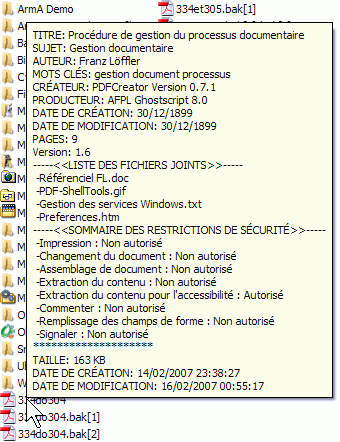 La Notification d'Informations montre les champs métadonnées standard suivant lors du survole de fichier PDF: Titre, Sujet, Mots clés, Créateur, Producteur, Création, Date de modification; Nombre de page, Version PDF, Liste des fichiers joints, Restrictions de sécurité, et les champs d'information système : Taille de fichier, Création de fichier, Date de modification et Sommaire de champs métadonnées. L'outil Editeur de préférences permet de sélectionner les champs à faire apparaître dans cette fenêtre.
This command line function export the requested metadata fields, of all the PDF files provided list, into one .csv (Comma Separated Values), file.
Function name:
ExportMetadata
Options:
[] means optional parameter
[ExportFields=]
- The list of metadata fields to export. List, comma separated elements, constructed by any of the standard fields names:

- Title, Subject, Author, Keywords, Creator, Producer, CreationDate, ModDate

Plus, the extra fields:

- FileDate, FileSize, PDFVersion, PDFSecurity, PDFNPages

And any custom field name, as, for example, the ones produced by the Outlook email PDF archival Acrobat functionality:

- MailSubject, MailTo, MailCc, MailDate, ...

Notes:
- Fields names are cAsE sensitive.
- Trial version export only standard fields.
- If list not provided, export all the standard fields
[-UTF8Encode]
- Exported data will be UTF-8 encoded.
OutFilename=
- Full path and file name of the .csv file to export to.
FilesList
- List of PDF files, full path and name, to collect the metadata from. Separate individual files using the semicolon ";" char. Must be the last parameter.
Note:
- Trial version is limited to the first 10 submitted files.
Example:
Rundll32 "c:\Program Files\PDF-ShellTools\PDFShellTools.dll",ExportMetadata ExportFields=Title,Subject,Author,PDFNPages OutFilename=C:\Temp\PDFMetadata.csv c:\Somefolder\*.PDF